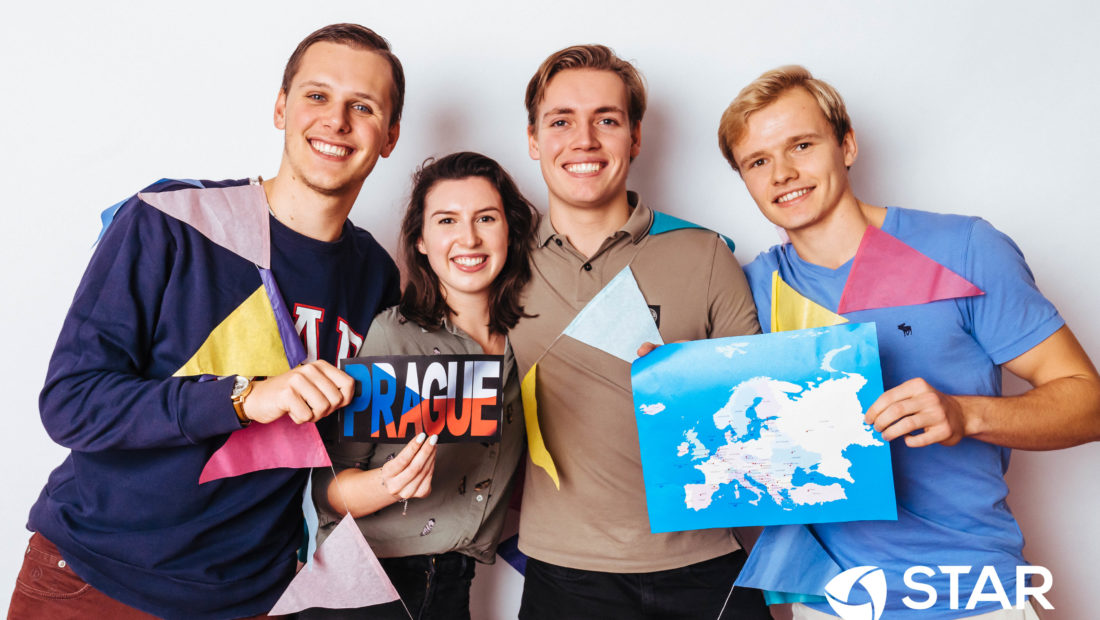 Euro Trip
Every year the Euro Trip committee organises an unforgettable trip in Europe for 30 bachelor/pre-master/master students. The trip usually takes place around October/November and the registrations will open in September. During the Euro Trip there will be a lot of sightseeing, visiting universities and visiting companies.
Already curious where the Euro Trip 2020 will be going? Keep an eye on our page!
For questions you can always send an email to chairman.eurotrip@rsmstar.nl
Dear Students,
A city full of history, culture, and most importantly: a lot of students! Euro Trip 2019 goes to PRAGUE!
Each year we as STAR visit a city in Europe. After last year's unforgettable visit to Athens, we are thrilled to invite you to fly with us to one of Europe's most cultural and historical cities: Prague. If you want to escape the library for a couple of days, sign up to be part of this incredible adventure!
Destination
In Prague, we will discover the city's most historic sights, such as the castle of Prague, Charles Bridge, St. Vitus Cathedral and much more. We will get to explore the business culture of the Czech Republic by visiting companies and getting to know one of RSM's partner universities. We will be staying in one of the best hostels in the city with incredible student facilities. Most importantly, the lively nightlife and cheap prices of Prague is something that the city is perhaps most known for and you definitely want to experience this yourself!
Prague is a city that every student should visit at least once, and what better way than with a large group of fellow students that can become friends for life.
What to expect?
The program will show you different aspects of the city. Company and university visits will provide an insight into the business life. We will enjoy the historic areas of the city and of course the awesome clubs throughout the night. Are you ready for the dynamic Czech nightlife, its pub crawls and much more? You do not want to miss this. Sign up now and remember the trip forever!
How to apply?
We are looking forward to get to know you! First, you will need to fill in the application form (no payment needed yet). Due to the limited spots, we use preselection. If you are chosen, you will receive an e-mail with the invitation to join! Only afterwards payment will be required.
Do you have any questions?
Feel free to send us an email to marketing.eurotrip@rsmstar.nl regarding any questions you may have.
We hope to see you soon!
The Eurotrip 2019-2020 Committee