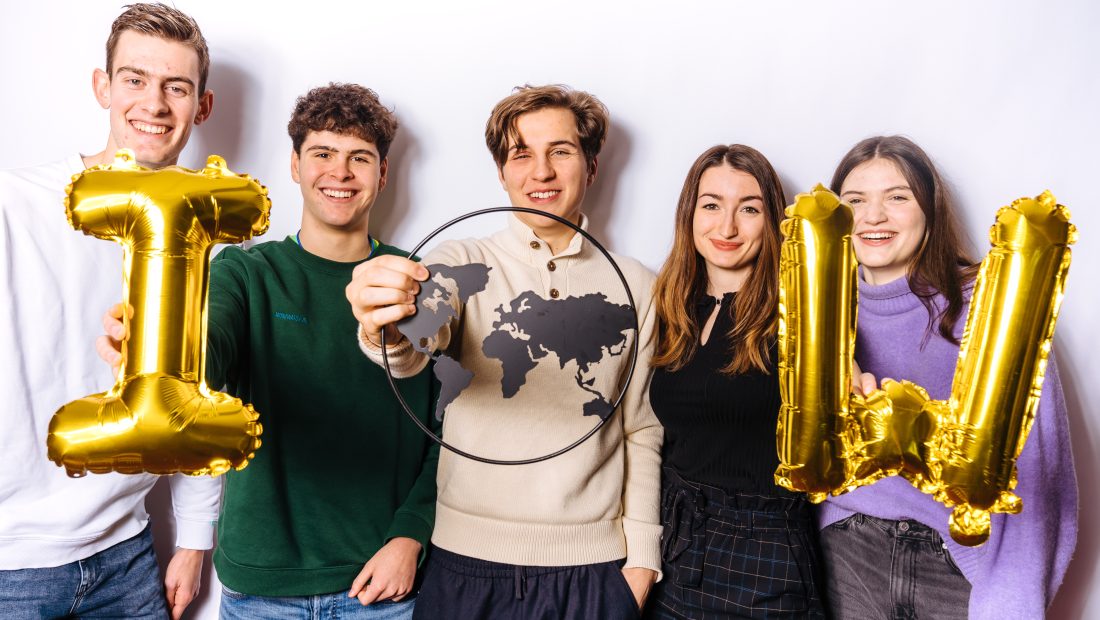 International Week
The International Week is an exchange project with participants from all over the world. Local students show foreign students their city, the local culture, business life, party scene, and their home university. Each year, about 20 students from Rotterdam get the chance to broaden their horizons by visiting different partner universities. In May, 25 international students visit Rotterdam and Amsterdam for International Week Holland. Are you the one with that global organizational mind-set to bring different cultures together?
The International Week Committee will work closely with Amsterdam Study Association SEFA. Throughout the year, you are responsible for the recruitment of students to participate in all International Weeks abroad. Together with your committee, you organize the International Week Holland, where your goal is to show incoming students the best that The Netherlands has to offer by visiting Amsterdam and Rotterdam. The committee arranges the program, sponsors, accommodation, and makes sure foreign students have the time of their life!
Please fill out the form below to apply and send it to marketing.internationalweek@rsmstar.nl:
International Week Switzerland, from 28th March until 5th April 2023
Application deadline 30th of January – CLOSED
Internation Week Budapest, from 14th April until the 21st
Application deadline 27th of February – CLOSED
Internation week Warsaw from May 11th until the 21st
Application deadline 8th of March – CLOSED
Internation week Vietnam from the 16th of April to the 22nd of April
Application deadline 15th of March
In this link: http://bit.ly/3YFKxaz you can find 1) a brochure 2) a proposal 3) an application form
Internation week Lund from May 12th until the 18th
Application deadline 14th of March, 1 PM
What is International Week?
The mission of International Week Rotterdam is to give students the opportunity to broaden their international horizon by allowing RSM students to spend time in another country and foreign students to spend time in The Netherlands. Through exploration of the local business, educational, cultural and social life, students enhance their international experience.
About 30 years ago, the International Week idea was founded in St. Gallen, Switzerland and STAR joined this network of International Weeks a long time ago. Nowadays, there are roughly 24 International Weeks during the academic year, providing about 40 students from RSM the opportunity to spend a week in one of the 18 countries.
How does it work?
Would you like to go abroad for a week, meet a lot of foreign students and have an amazing time? Then you should definitely apply for an International Week! The hosting committee will arrange a place to sleep for you with one of the local students and they will realize a complete program for the entire week. In this week you get a taste of the city and country, together with about 20 students from all over the world! Please note: only 1 or 2 RSM student(s) will participate per IW. This means you will not join an IW with a group of people from RSM.
How much does it cost?
When you want to join an International Week all you have to pay is a contribution fee of €50,- and your own plane ticket to your destination. All programmed activities are for free and host students will provide you a place to stay during the week without any additional costs. Note: visa costs (if required) are not included.
With how many people from STAR do we participate in an International Week?
One, just one. Hopefully you! At the location of the International Week you will meet 24 other students from all over the world who represent their countries! Together you will form the International Week group. On some occasions, we are able to send two students to an International Week.
If I have an exam or a mandatory workgroup during the course of an International Week, will STAR be able to arrange special permission for me to miss this exam/workgroup?
Unfortunately, STAR cannot arrange something like this with the university for you. International Week applicants must personally check their school timetables to see if they can miss any academic activities while they are participating on the International Week.
Where will I stay if I go on an International Week?
During the International Week, a host family will provide accommodation for each selected student. The organizing committee of the IW will personally arrange this host family for you. There will be no additional costs for this accommodation.
When and where can I subscribe for an International Week?
Like our Facebook page to stay up to date about upcoming International Weeks! For our Facebook page, go to: www.facebook.com/STARinternationalweek
Application forms for these International Weeks will be available on our website as soon as the subscriptions are open.
What is the application procedure for an International Week?
The application procedure consists of several steps. First and foremost, you must fill in the application form on this website (this will only be available when the subscription is open for each specific IW). Keep in mind that applicants will also have to upload their CV, along with their application form. Based on the application, applicants will be called in for an interview with our committee.
What is the influence of Covid-19 on the International Weeks?
As a committee we are keeping close contact to the host committees of the outgoing International Weeks to stay updated about the current situation. If there are any changes in the program, or an International Week is cancelled, we will inform all participants as soon as possible.