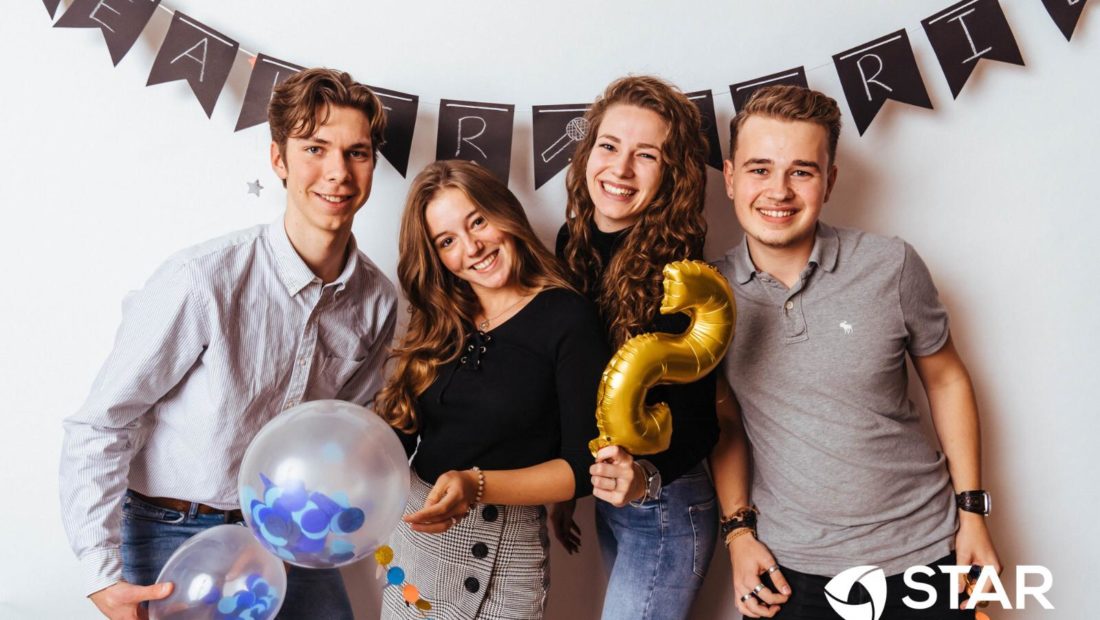 Speaker Series
We, Speakers Series, strive to inspire and motivate students by organising different speaker events throughout the year. The events will include various speakers who are linked by a specific theme. When speaking on one of our events you will have the eyes and ears of several motivated Dutch and international RSM students. Our series gives students and companies the opportunity to learn, listen and interact with each other.
What makes us different from other speakers events? We ourselves are part of the group of targeted students. Therefore we believe we are able to attract them in the best way possible. We want to give students a different feel of the business world than what we read in our textbooks. Additionally we want to give companies the opportunity to differentiate themselves from other companies through a less formal setting and to give current students the unique story of your career journey.
2017-2018
Jochem van den Berg on 'De Speld'
Jochem van den Berg is the chief editor of 'De Speld'. 'De Speld' is known as one of the most famous and funniest satirical newspapers. During an interview students got the opportunity to ask Jochem van den Berg questions and get to know more about him and 'De Speld'.
2015-2016
Solve a case at the ESA in collaboration with i.d. (TU Delft)
Students from STAR (Erasmus University) and Studievereniging i.d (TU Delft) solved a case together and got an exclusive tour at the ESA. The ESA is the European Space Agency, which is an intergovernmental organization dedicated to the exploration of space.
René Hooiveld on Energy Transition
René Hooiveld is the Director Sustainable Energy at TNO since January 2015. As director Sustainable Energy he is responsible for the development and implementation of the roadmap, project acquisitions and the investment in knowledge development in the area of sustainable energy and the integrated hybrid energy system in the Netherlands, Europe and the rest of the world.
Marjan van Loon on Energy Transition
Marjan van Loon is the CEO of Shell the Netherlands since January 2016. Marjan is working for Shell since 1989 and held a number of positions. Before the position as CEO the Netherlands, she was the Vice President Liquefied Natural Gas and Gas Processing at Shell and responsible for all technical aspects of Shell LNG Developments globally.
Ahmed Aboutaleb in collaboration with NTR College Tour
Ahmed Aboutaleb is the mayor of Rotterdam
Harald Swinkels on Quote 500
In 2005, Harald Swinkels, together with his inseparable business partner Pieter Schoen, founded De Nederlandse Energie Maatschappij. The 40-year-old Erasmus alumnus is currently ranked 432th in the Quote 500, with an estimated wealth of €50 million. Thanks to innovative marketing and sales campaigns De Nederlandse Energie Maatschappij currently is the fourth largest energy supplier in the Netherlands
Robbert Jan Dekker on Quote 500
Robbert is the director and also owner of the family business Royal Dekker, a company that is active in the real estate development and wood industry. Robbert was once ranked 134th in the Quote 500 with an estimated net worth of 195 million. However, with the aftermath of the recent financial crises the industry has been prone to fluctuations. Therefore, Royal Dekker reorganized its activities, leading to Robbert's current ranking of 267th. His story perfectly reflects the ups and downs associated with the life of a successful entrepreneur.
2012-2013
Corrine Goddijn Vigreux on Success Factors in Entrepreneurship
Corinne Goddijn-Vigreux Co-founded TomTom NV and has been its Managing Director since July 2008. Ms. Goddijn-Vigreux serves as Sales Director and Chief Commercial Officer of TomTom NV. She is responsible for Sales and Product Management. She has played a leading role in growing TomTom NV from a small organisation into a global player in the consumer electronics market. Her key responsibilities have focused on defining and driving TomTom NV's global sales strategy and geographical expansion, overseeing product management as well as developing partner and retail relationships. From 1987 to 1993 she worked for Psion Plc helping set up and managing Psion's European distribution network. She was International Sales Manager by the time she left Psion. Since she joined TomTom in 1994, she has helped it grow from a small team into Europe's largest navigation software publisher. She is a key visionary in the car navigation industry and has played an active role in this fast growing market from the beginning. Ms. Goddijn-Vigreux graduated in France with a BA in international Business from EPSCI (ESSEC Group) in 1987.
Tour Kimberly Weisul on Success Factors in Entrepreneurship
Kimberly Weisul is an editor at large for Inc. Before joining Inc., she was a senior editor at BusinessWeek, where she spearheaded coverage of entrepreneurship and small business. She is also the co-founder of One Thing New
Marcel Verdun on Innovation
Marcel Verduyn, TEDx Amsterdam 2012s best speaker, strives to create new up-and-coming innovations at Shell. Marcel's vision is that project successes are more sustainable in an environemnt that fosters team spirit together with the combination of creativity and knowledge. He will therefore provide you with the right mix of creativity and knowledge to succeed in all innovations.
2011-2012
Richard Branson in collaboration with NTR College Tour
STAR presented Sir Richard Branson in collaboration with NTR College Tour! Sir Richard Charles Nicholas Branson is an English business magnate, known as the founder and the chairman of Virgin Group.
Rijkman Groenink in collaboration with NTR College Tour
Rijkman Willen Johan Groenink is best known as the CEO of the Dutch Bank ABN Amro at the time that the bank was sold to a group of banks.
John de Mol in collaboration with NTR College Tour
John de Mol known as one of the men behind the production companies Endemol and Talpa.
Matthijs van Nieuwkerk in collaboration with NTR College Tour
Matthijs van Nieuwkerk is known from the television program "De Wereld Draait Door". Moreover, he also founded the football magazine "Hard Gras" with Henk Spaan.