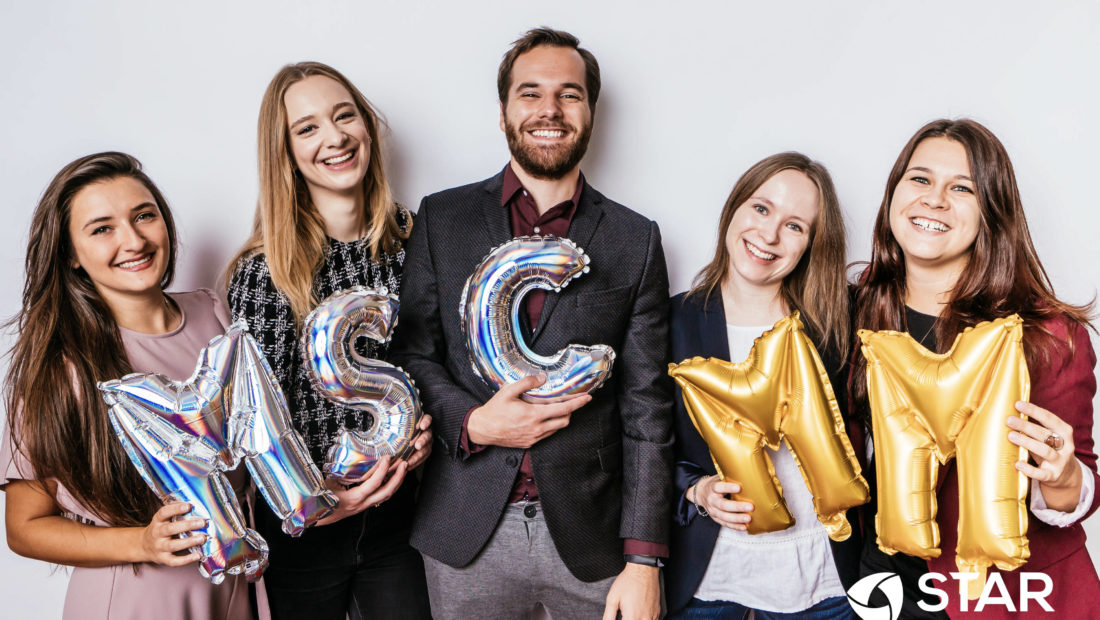 Marketing Management
The Master Club Marketing Management (MSC MM) offers students a chance to engage in all kinds of activities, which can help them in an academic, social and business-related way. This is the perfect opportunity for Marketing students to put theory in to practice. For companies, the Master Club is an interesting way to get fresh insights on current hot items in marketing.
"While people often think of marketers as the people who think up clever ways to sell lipstick, cars and coffee, companies view marketers as key drivers of their performance – and those who understand marketing are better able to develop a successful vision and strategy for their company. It is not difficult to see why today marketing knowledge is one of the most in-demand aspects of management know-how." – rsmstar.nl
If you are interested in organising events for your fellow students, strengthening your extra-curricular experience and fostering ties with the corporate world, then a part-time board year or committee as part of the Master Club of Marketing Management might be something for you! These are the positions we're hiring:
Chairman
As chairman, you are the person who keeps an overview of all the activities and knows who is doing what at all times. Moreover, you are responsible for keeping your team motivated and inspired throughout the entire year. In addition, you will help your board to set goals and to stay on track to reach those goals. This is done by organising weekly meetings and, when necessary, have more personal contact. Besides that, you are responsible for staying in touch with all stakeholders, such as the departments of RSM and the STAR board. Furthermore, you try to be present at all activities organised by your board members. As chairman, you are a person who is organised, social, responsible and keeps his/her eyes on the goal.
An indication of hours per week:
Around 6 hours a week. However, if there are activities planned, this can increase a bit. As planning is mainly your responsibility, you can decide to plan time off during exam periods.
Quote:
"The best way to truly learn about teamwork and how to reach self-set goals."
Commissioner of External Relations (2x)
As the Commissioner of External Relations, you are mainly responsible for the contact between the MSC and external parties, which are mainly companies. In general, the externals establish and maintain good connections and relations with companies the board is currently organising activities with. Moreover, they try to reach out to new companies as well. A proactive approach is especially necessary when it comes to international companies, which have offices abroad and offer job opportunities for our international students. You are able to 'sell' an event or exposure, to promote our students and to promote STAR to others! Furthermore, the externals will take care of setting up contracts. As external, you will meet a lot of recruiters, bring in your own ideas concerning recruiting activities and talk about the wishes and plans for the 2018 – 2019 academic year.
A good external is representative/professional, dedicated, punctual, convincing and timely. If you are willing to invest some time, you will build a strong network and gain plenty of job opportunities after your studies.
An indication of hours per week:
5 Hours per week on average. These hours can increase a bit when an event is coming up, while it will decrease towards exams. In the first month, you will have to do some travelling to meet the recruiters and visit the companies.
Quote:
"Great way to get into contact with recruiters, enhance your future job opportunities, and to create a network."
Commissioner of Internal Activities and Treasurer
The Commissioner of Internal Relations is responsible for organising and facilitating social as well as educational events. These activities are aimed at enriching student's social and educational experience by providing opportunities to engage on a social, as well as an academic level with their peers. Examples of such events can be social drinks, dinners, activities and skills improvement lectures. Moreover, the internal is responsible for maintaining communication with the Master students of his/her program via different channels.
Furthermore, you are the one responsible for the budget. Together with your board members, you will make a budget for the year to set a direction for your team. During the year, you should update your financial position and discuss with your team how to spend your revenues.
An indication of hours per week:
Hours can vary considerably, depending on the time of year and corresponding activities. In general, 4 hours per week should be sufficient. Please keep in mind that on occasion you may be required to manage or assist in an event, which might entail being available an entire day.
Quote:
"An excellent opportunity to improve your teamwork as well as organisational skills."
Study Trip Coordinator
As the Study Trip Coordinator, you will be responsible for organising the study trip. You will recruit your own committee. In your role as chairman of this committee, your tasks will consist of planning meetings, guiding your committee, maintaining contact with external parties, and making decisions about the project. As the Study Trip Coordinator, you will closely cooperate with the Department and Academic Director of your MSc program, which makes it very interesting and educational.
An indication of hours per week:
5 hours per week. The workflow varies, with some peaks during the recruitment period of the committee, the period of contacting companies, and the trip itself. However, you can plan everything yourself, which makes it is easy to combine the position with your studies.
Quote:
"Great way to improve your practical skills and network, while making lots of friends."
Interested in one of these positions? Apply now via recruitment.rsmstar.nl!
Application deadline: September 16th
Seoul, Shanghai, Tokyo, New York, Beijing and a lot of other places have passed as study trip destinations of last year's Master Clubs. Do you want to join this years study trip?
Internal
The internal relations manager will be in charge of everything that concerns the participants. In the first part of the year, this will be communicating the destination, promoting the study trip and recruiting students. Later in the year this will be organising social activities for the participants to meet each other, and keeping the participants informed. The person suitable for this role needs to have great social skills and should be structured and well organised.
External(s)
The purpose of the external manager is to arrange sponsorships and company visits. Daily activities consist of mostly (cold) calling companies and following up on established contacts. Experience learns that most fruitful contacts are the ones that are coming from within personal networks. The persons suitable for this role should have great (professional) communication and selling skills. His/ her role will be important throughout the whole year.
Travel Manager
The travel manager will be in charge of creating the program for on location. This will be cultural activities, as well as social activities. The travel manager is also responsible for the accommodation and transportation on location. The person for this role should have great organisational and planning skills.